Project Partners
Coordinator

Department of Forests
The Department of Forests comes under the Ministry of Agriculture, Natural Resources and Environment and has a dual role. DF is the competent authority for both the management of national forest land and also for the implementation of national forest legislation and policy. Within this framework, DF is engaged with forest fire protection, management, landscape and nature conservation, reforestations and management of state forests that are part of the Natura 2000 network. Additionally, DF has long experience in implementing various European co-funded projects including LIFE and non-LIFE projects such as EEA Grant Projects. Currently is involved in the implementation of at least eight running projects most of which have a nature conservation content.

---
Partners

Cyprus Forest Association

Cyprus Forest Association was established in 1930, and is one of the biggest Non Governmental non – profit Organizations of Cyprus with a main objective to contribute to the conservation of forest resources and nature of the island in general. The CFA has its headquarters in Nicosia near the premises of the Department of Forests with which it has a long and constant cooperation. It is administered by a 7.member Administrative Council elected every 5 years, and has a permanently employed Secretary (professional forester) and about eight (8) Cypriot experts - members of the CFA which provide their services when the Association is engaged in projects or conservation efforts. More specifically the list of experts include 2 professional foresters, 2 experts on local flora (foresters), one expert on birds, one on bats, one on reptiles and one on insects.
CFA is very active in forest and in other relevant issues concerning nature and biodiversity protection.
CFA is currently involved in an ongoing EU funded project titled "Ensuring the survival of endangered plants in the Mediterranean-MAVA project» and more specifically it is responsible for collecting high quality seed material and associated data of wild plants.
CFA has funded and/or coordinated the publication of eight books on nature of Cyprus the main of which are: The Red Data Book of the Flora of Cyprus (2007),Trees abd Shrubs of Cyprus (2002), Vascular Plant of Cyprus (1973), Guide to Troodos Mountains (1973) etc.
Frederick University

Frederick University (FU) is one of the seven recognized Universities operating in the Republic of Cyprus. It is an energetic and vibrant private university, enjoying respect and recognition both nationally and internationally. FU offers a broad range of academic programs of study. The University has a strong focus on academic research, being one of the leading research organizations in the country. The members of FU academic staff are highly qualified and have to demonstrate a rich publication record.
Since 2005, the Nature Conservation Unit (NCU) was established under FU. NCU specializes on biodiversity conservation and the management of natural resources in Cyprus. NCU is the only department in the Cypriot academic system that focuses on nature conservation.
NCU draws from the experience of several collaborating scientists, graduate and postgraduate students with extensive experience on conservation biology and natural resources management. The members of NCU have been actively involved in several biodiversity conservation projects, including LIFE projects, for the inventory, identification, evaluation and mapping of the habitat types and flora and fauna species in Greece and Cyprus. In addition, they have participated in several projects on the conservation of the endemic, rare and threatened plants of Cyprus and Greece.
Game & Fauna Service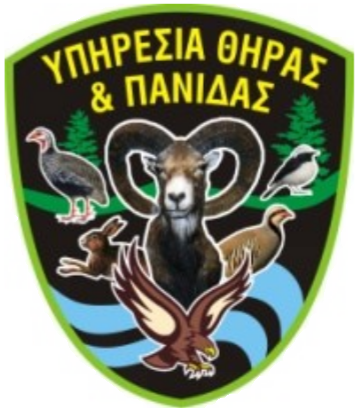 The Game & Fauna Service (Game Fund) of the Ministry of Interior is responsible for the protection of all wild birds (game and non-game) and their sites (Special Protection Areas) through the implementation of law 152 (I)/2003 which transposes the European Birds Directive 2009/147/EU and regulates all hunting in Cyprus (birds and mammals). Also it is responsible for the conservation of the Cyprus Mouflon Ovis orientalis ophion which is protected under the EU Directive 92/43/EEC. The following are the main sectors of Game & Fauna Service (Game Fund) conservation activities:
Protection and conservation of wild birds in the Republic including the NATURA 2000 sites.
Habitat improvements (creation of food plots with winter cereals, water improvement in arid areas, nesting box establishment for nocturnal birds of prey, etc.)
Declaration of Wildlife Conservation Areas where hunting is prohibited (sensitive habitats such as wetlands, important nesting cliffs, Cyprus mouflon habitat, river valleys, etc) have been declared as WCAs (about 30% of Government-controlled land in Cyprus).
Law enforcement concerning wildlife law violations (campaign against Illegal bird trapping, poaching, shooting of protected species, hunting in WCAs, etc).
School presentations are given on topics such as Cyprus wildlife, Wetlands of Cyprus, Biodiversity, Bird trapping, Mouflon conservation, etc.
Mandatory Hunter education courses for new hunters (since 2004) and convicted wildlife law violators.
Research (Mouflon, Raptors, Nocturnal Raptors, Annual surveys, Monthly water bird surveys, Hunter Harvest Surveys, etc.)